STARDOG
"¡VENIT A VER LA SANGRE POR LAS CALLES!"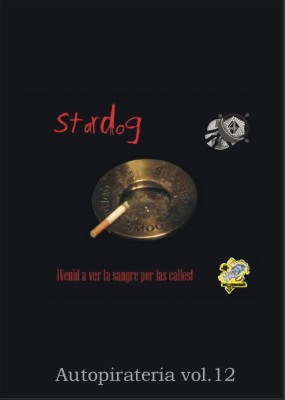 Duende Noir . Musica della passione e dello spleen. L' Amore e la Donna, la violenza e la malinconia, il calore e l'ossessione, i fantasmi e la notte, il nero e l'amicizia, le occasioni perse e quelle trovate, i demoni e la Musica...Strade Perdute nel Cielo Sopra Berlino.
Cinque Ultimi Romantici.
In uscita con l' ep "Venid A Ver La Sangre Por Las Calles!", realizzato in collaborazione con la Cooperativa "Linea Dell'Arco" di Lecco nell' ambito del Progetto Sottosuono, atto a valorizzare la musica underground e il contenuto sociale dell'attivita' musicale.
Gli Stardog si caratterizzano per un intenso live maturato in oltre due anni di attivita' nei piu' fumosi e malfamati locali del nord Italia. Sanguigni e passionali, sexy e notturni, i loro concerti vi calano in una torrida atmosfera tra languore e energia, nei quali le loro canzoni e le decadenti cover che ogni tanto vengono proposte (da Bowie ai Depeche Mode ai Joy Division...) scandiscono minacciose inquietudini e gocce di romanticismo. Si definiscono "rock noir", per le torbide atmosfere sognanti e inquiete, a cavallo tra il primo Nick Cave, Mark Lanegan e un Chris Isaak uscito a bere qualcosa con David Lynch: chitarre riverberate, songwriting acido e cantato sguaiato e melodrammatico, suoni crudi e grezzi, pathos ipnotico e a volte ironico, testi in bilico tra spleen, amore e violenza sensuale.
Da segnalare l'apertura, nel mese di ottobre 2003, dell'unica data italiana di Maximilian Hecker, oltre a svariate apparizioni in prestigiosi locali come il Bloom di Mezzago (Mi) e a un live nel corso della trasmissione radiofonica "LiberiGruppi" di Radiopopolare; non ultima, la partecipazione come ospiti alla passata edizione di "Vinilmania" a Milano, con uno showcase semiacustico. Recentissima invece, nel mese di giugno 2004, l'apertura del concerto degli americani ElGuapo, band di culto di musica "indietronica", in occasione della loro data milanese nell'ambito della rassegna di moda e beneficenza "Convivio". Sempre quest'estate, importante il supporto alla indie band italiana One Dimensional Man.
Oltre a questo, in passato gli Stardog hanno inciso due demo molto ben accolti da riviste e addetti ai lavori (oltre a lusinghiere recensioni su giornali come Oltre a questo, in passato gli Stardog hanno inciso due demo molto ben accolti da riviste e BlowUp e fanzine come RockIt segnaliamo i graditi complimenti ricevuti da musicisti di culto come Howe Gelb, leader dei Giant Sand, e Chris Eckman dei Walkabouts)
Gli STARDOG sono:
Manuel: Voce, Urla,Piano storto, Camicia bianca
Alberto: Chitarre, Slide, Uomo Memore
Francesco: Chitarre, Piano, Surf
Simone: Basso, Semitoni, Sagacia
Stefano: Batterie, Rullanti, Sex Appeal
Musica e Testi sono di Manuel Lieta e Stardog
Registrato, mixato, prodotto e masterizzato dal 27 al 31 marzo 2004 presso "Mirage Studio - L'Arte del Suono", Inverigo (Lc) da Stardog e Andrea Trapasso
Produzione esecutiva: Stardog & Cooperativa Linea dell'Arco
Distribuzione in copyleft by Virus4
Booking & Management: Sapharydeluxe
Contatti: Stardog: s_poonman@hotmail.com / 3334317978 / www.stardogband.com / www.sapharydeluxe.it / info@sapharydeluxe.it
Coop. Linea dell'Arco, via Ballicco 11, Lecco
Line-up:
Manuel - voice, disturbed piano
Alberto - guitars,slide
Francesco - guitars, piano
Simone - Bass
Stefano - drums
Stardog came out from the ashes of other italian indie bands in 2001. Since then, we have played hundreds of concerts in clubs ( among them,"Bloom", near Milan, is the temple of underground music in northern Italy ), pubs, fairies and other different venues. Our live act has always been very intense and warm, filled with personality, charisma and a clearly recognizable atmosphere.
We recorded two demos in 2002, who were appreciated by lots of italian webzines, fanzines and musical magazines. Our work was also appreciated by Chris Eckman from the Walkabouts, Howe Gelb from Giant Sand and John Convertino from Calexico, all of them we had the honour to meet.
Since then, we had another big amount of concerts (we opened the only italian concert of german melodic songwriter Maximilian Hecker, back in October 2003, and for the raw indie italian band One Dimensional Man this summer) and some physiological change in the line-up. Now, here we are in 2004, ready to publish our selfproduced ep "Venid A Ver La Sangre Por Las Calles!", five songs of Love, Spleen, Passion and Violence.
Our music is deeply involved in obscure moods, dark and warm atmospheres, touching grotesque and cinematic tones. It could be described as a sort of a soundtrack for a David Lynch film, with the romantic violence of the first Nick Cave, together with Morricone-style guitars,nocturnal acid songwriting and the melodramatic crooning of a stoned Chris Isaak having a beer with a sleepy Mark Lanegan, the whole drowned in a hypnotic and sometimes ironic pathos. No lightness and no redemption are provided, but a whole lot of passion and heart, with raw and dirty sounds and arrangements, intentional live approach to the recordings (all that is not definite in the execution is strictly pursued...) and struggling melodies of love and hate.
Come listen to our record...we hope that you will enjoy the world of Stardog!
contacts: www.stardogband.com Manuel : s_poonman@hotmail.com
ORA CREA IL TUO CD
AND NOW BUILT YOUR CD
scarica le canzoni in formato mp3 e masterizza il cd
download songs in mp3 format and record cd
01 - waiting for the storm
02 - the crash
03 - duende
04 - hungry dog
05 - line
scarica la copertina e procurati un box per dvd
download the cover and use a dvd-box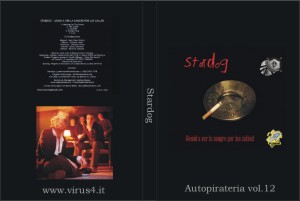 scarica i testi (in inglese)
download lyrics (in english)
TESTI