NEL COVO DEGLI AUTOPIRATI

La prima compilation in autopirateria - The first compilation in self-piracy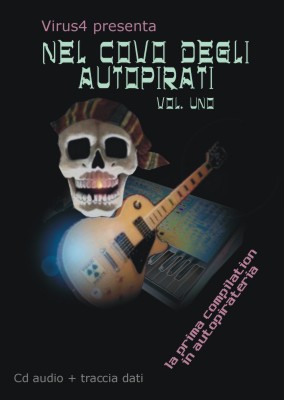 Quando abbiamo iniziato a raccogliere il materiale per questa prima compilation in autopirateria eravamo piuttosto perplessi; perplessita' subito eliminata visto la velocita' con la quale i gruppi hanno risposto all'iniziativa.
Non e' una compilation su un genere, ma su un'idea, quindi musicalmente molto etereogenere, magari un po strana da ascoltare ma sicuramente non monotona.
In ordine di comparizione hanno aderito i Denoizer, progetto parallelo di alcuni componenti degli Anna Void, i Jesus goes to hell, progetto rumorista molto particolare, i Vergainbile, molto conosciuti nella nostra zona, Taba, ex-Sinner Dolls, i R.U.N.I., molto conosciuti nella scena alternativa, Dead Zone, illusione elettronica molto coinvolgente, i Vintage Violence, unico gruppo punk presente e scelto per la loro lettura fedelmente old style del genere, D.E.D. progetto parallelo di Noir con la splendida voce della moglie, i Turk 182, con una canzone cara a noi della Virus4, il ritorno di Dario Polvara...NKM dopo 13 anni di silenzio con un pezzo che non verra' pubblicato in nessun altro modo, gli Zephyr Avenue, new wave anni 80 molto influenzati dai primi Depeche Mode, le Acceleratrici di Particelle, hardcore terro-femminista con molti lati enigmatici (che scopriremo in futuro), Stefano Liani, normalmente impegnato in tutt'altro tipo di musica ma che dimostra che non e' necesserio fossilizzarsi e i maXaiver con un'anticipazione del loro prossimo cd.
Di solito non amiamo le compilation: il progetto del covo degli autopirati e' dedicato a tutte quelle compilation uscite dai centri sociali negli anni 80 per affermare idee, progetti e soluzioni (perche' non si puo' solo distruggere), che avevano come unica regola: "non importa come lo dici, importa cio' che dici".
When we start to prepare this first compilation in self-piracy we had very perplexed; all changed for easy way bands reply to us.
This is not a compilation based on a musical genre, but it's based on an idea, so there are different kinds of music.
The bands that decided to help us are Denoizer, side project of Anna Void, Jesus goes to hell, noise project very particular, Vergainbile, most famous in our country, Taba, ex component of Sinner Dolls, R.U.N.I., famous group of alternative scene, Dead Zone, electronic illusion very involved, Vintage Violence, the only punk band choised for its old style way of playing, D.E.D., side project of noir with the beautiful voice of his wife, Turk 182, with a song that Vieus4 love so much, the return of Dario Polvara...NKM alter 13 years of silence, Zephyr Avenue, new wave 80's based on first Depeche Mode, Acceleratrici di Particelle, terro-feminist, Stefano Liani that usual play another kind of music, and maXaiver with an advance of their next cd.
Usual we don't like compilation: Covo degli autopirati project is dedicated to all compilation made by social centres during 80's to assert ideas, projects and solutions (you can not always destroy) and had only a rule "don't care how you say, the important is what you say".
ORA COSTRUISCI IL TUO CD
AND NOW BUILT YOUR CD
01- DENOIZER : "ILLUSIONI APPARENTI"
02- JESUS GOES TO HELL : "ADAGIO IN SOL MINIRE" (T. ALBINONI)
03- VERGAINBILE : "54"
04- TABA : "SPEEDBALL"
05- R.U.N.I. : "MI AMMACCO"
06- DEAD ZONE : "ELECTRONIC SANCTUARY"
07- VINTAGE VIOLENCE : "BURN THE FLAG"
08- D.E.D. : "TIME IS OVER"
09- TURK 182 : "L'AVVOLTOIO"
10- DARIO POLVARA...NKM : "L'AFRICANO ELETTRICO" (industrial rmx)
11- ZEPHYR AVENUE : "ANOTHER DAY"
12- ACCELERATRICI DI PARTICELLE : "I STOPPED"
13- STEFANO LIANI : "TRASHER"
14- MAXAIVER : "GUERRA AGLI ANIMALI"
ORA SCARICA LA COPERTINA E PROCURATI UN DVD-BOX
AND NOW DOWNLOAD THE COVER AND USE A DVD-BOX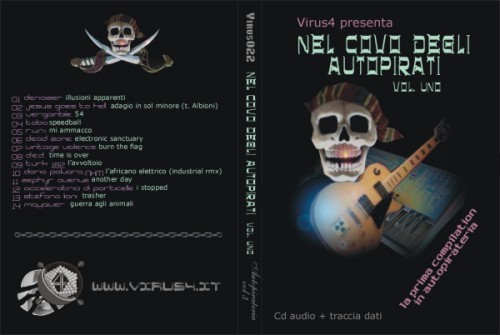 PER FINIRE SCARICA IL FOGLIO INTERNO CON I CONTATTI
FOR THE END DOWNLOAD INTERNAL LAY WITH THE CONTACTS