| | |
| --- | --- |
| | H : "ANNO ZERO" |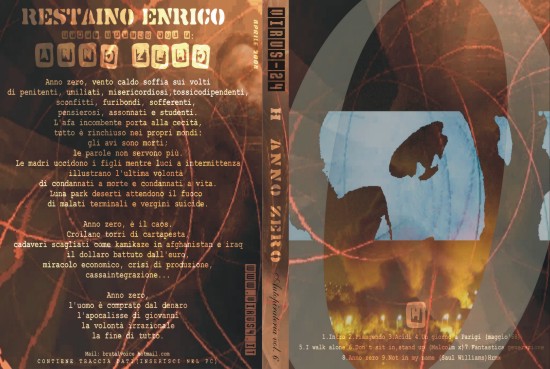 "L'ANNO ZERO SONO LE BARBARIE, IL PRECIPIZIO, LA VOLONTA' DI DOMINIO. L'ANNO ZERO E' IL DENARO E LA SUA SUPREMAZIA, LE ARMI E L'ABISSO. L'ANNO ZERO E' LA RICERCA DEL SUONO COME VIA DI FUGA, COME CONTATTO CON LA REALTA', COME PROTESTA, COME RABBIA, COME ANGOSCIA E COME RIMEDIO ALLA CONTINUA SENSAZIONE DI SENTIRSI FUORI LUOGO PUR SAPENDO CHE PROBABILMENTE NON ESISTE ALCUN "LUOGO". L'ANNO ZERO E' ANCHE LA RESISTENZA A TUTTO CIO', L'ANGOLO DEI FANTASMI, LA NOSTRA REALTA', IL NOSTRO MONDO. LA MUSICA E' SOLO UNO DEI MODI DI RIFIUTARE CIO' CHE HANNO DECISO PER NOI E SENZA DI NOI, E' LA FELICITA' DI SENTIRSI IRRAZIONALI DI FRONTE ALLE STRAGI PROGRAMMATE, E' LA POSSIBILITA' DI ESSERE LIBERI. "
Con questa frase si presenta il nuovo lavoro di H (gia' conosciuto come HBV). Si tratta di un personaggio molto particolare che affronta tematiche politico-sociali care alla controcultura di crassiana memoria, utilizzando un linguaggio musicale inusuale allo scopo; questo filone di pensiero ha sempre prodotto musica esplosiva e dissacrante, grezza e lacera....... H come la bomba omonima che pero' invece di produrre fragore esplosivo implode nell'interiorita' d'animo con un ambient molto statico ma liquido, impalpabile. I primi riferimenti che vengono in mente sono i Tangerine dreams e gli Everest, una specie di new age ribaltata la negativo, un mix tra pad elettronici e psichedelia da viaggio.
Sdraiatevi, chiudete gli occhi, allontanate qualsiasi oggetto contundente da voi e preparatevi all'atterraggio.
"THE ANNO ZERO ARE BARBARITIES, THE SWALLOW-HOLE, THE WILL OF POWER. THE ANNO ZERO IS MONEY AND HIS POWER, ARMS AND THE ABISS.
THE ANNO ZERO IS THE SOUND RESOURCING AS A WAY FOR ESCAPE, AS A CONTACT WITH REALITY, AS PROTEST, AS HUNGRY, AS ANGUISH AND AS A CURE FOR THE SENSATION OF BEING OUT OF SOCIETY, KNOWING THAT PERHAPS THERE'S NO "SOCIETY". THE ANNO ZERO IS ALSO THE RESISTANCE, THE GHOSTS' CORNER, OUR REALITY, OUR WORLD. MUSIC IS ONLY ONE OF THE WAY TO REFUSE THAT "THEY" DECIDED FOR US AND WITHOUT US, IT'S THE HAPPYNESS TO BE NO RAZIONALITY AGAINST PROGRAMMED MASSACRES, IT'S THE POSSIBILITY TO BE FREE"
With this string H (known as HBV) present his new album. He's a very particular player that speak about social and political thematics (do you remember Crass?) using an inusual musical language; protest thinks have always made explosive music....... The name is H like the bomb that don't make an explosion but burn inside the soul with an liquid ambient music. Sounds call Tangerine Dreams and Everest, a kind of negative new wave, a mix with electronic pads and psychedelic trips.
Lay down, close your eyes, no knifes near you and prepare to landing.
ORA CREA IL TUO CD
AND NOW BUILT YOUR CD
scarica le canzoni in formato mp3 e masterizza il cd
download songs in mp3 format and record cd
01- INTRO
02- PIANGENDO
03- ACIDI
04- UN GIORNO A PARIGI (maggio 68)
05- I WALK ALONE
06- DON'T SIT IN, TAND UP (MALCOM X)
07- FANTASTICA GENERAZIONE
08- ANNO ZERO
09- NOT IN MY NAME (SAUL WILLIAMS) Hrmx

scarica la copertina e procurati un box per dvd
download the cover and use a dvd-box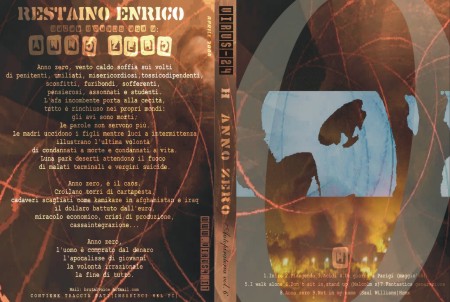 scarica i testi in formato doc
download lyrics in doc format
TESTI