D.S.P. - Die Schwarze Pest"
"ALIE(N)NATION CD"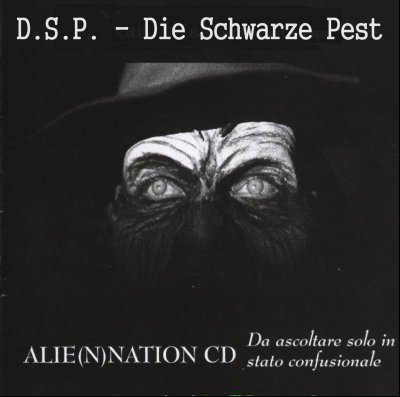 Ristampa del primo mitico cd di D.S.P., datato 2001. Sperimentazioni a go go, con varie collaborazioni...... da ascoltare solo in stato confusionale.
Huftsteak, ultimo pezzo del cd, era nato come progetto unico e a se stante; se volete visionarlo.
Reload. It's the first cd by D.S.P., in 2001. Xperimental, vs some strange people..... listening only in altered state.
Huftsteak, last song, was born as lonely project; if you want to see (only in italian).
ORA CREA IL TUO CD
AND NOW BUILT YOUR CD
scarica le canzoni in formato mp3 e masterizza il cd
download songs in mp3 format and record cd
ARTPOCALYPSE
STATO CONFUSIONALE
ALIE(N)NATION
TOYS
ICE VIRUS IN HEART
2001 FUGA DA N.Y.
HUFTSTEAK
scarica la copertina
download the cover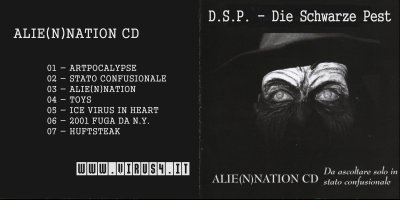 scarica il foglio interno
download inside part